If it doesn't work: choose your language and try these steps:
Nederlands
Het is mogelijk onze website in uw eigen taal te lezen met behulp van Google Translate.
Ga naar https://translate.google.com/
Kies de vertalen taal Nederlands
Vul in het vak daaronder de naam van onze website in www.BONTE.eu
Kies de taal waarin je de website vertaald wilt hebben
Klik op het vierkante icoontje met het pijltje om naar de website te gaan
Als u naar de website wordt gestuurd ziet u dat;
Bij 1. Uw gewenste taal staat aangegeven of anders kunt u dit nog veranderen.
Bij 2. Ziet u het menu van onze site in uw eigen taal.
Wilt u liever iets zien in de oorspronkelijke taal? Dan kunt u hier bij 3. alsnog voor kiezen.
English
It is possible to read our website in your own language using Google Translate.
Go to https://translate.google.com/
Choose the translate language Dutch
Enter the name of our website in the box below www.BONTE.eu
Choose the language in which you want the website translated
Click on the square icon with the arrow to go to the website
If you are sent to the website you will see that;
At 1. Your desired language is indicated or otherwise you can change it.
At 2. You will see the menu of our site in your own language.
Would you rather see something in the original language? Then you can still opt for this at 3..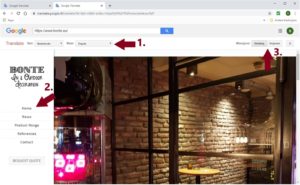 Français
Il est possible de lire notre site Web dans votre propre langue en utilisant Google Translate.
Accédez à https://translate.google.com/
Choisissez la langue de traduction Néerlandais
Entrez le nom de notre site Web dans la case ci-dessous www.BONTE.eu
Choisissez la langue dans laquelle vous souhaitez traduire le site Web
Cliquez sur l'icône carrée avec la flèche pour accéder au site Web
Si vous êtes envoyé sur le site Web, vous verrez cela;
À 1. Votre langue souhaitée est indiquée ou sinon vous pouvez la changer.
À 2. Vous verrez le menu de notre site dans votre propre langue.
Préférez-vous voir quelque chose dans la langue d'origine? Ensuite, vous pouvez toujours opter pour cela à 3 ..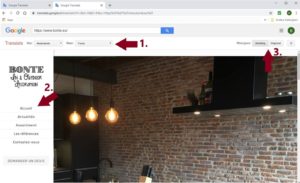 Deutsch
Mit Google Translate können Sie unsere Website in Ihrer eigenen Sprache lesen.
Gehen Sie zu https://translate.google.com/
Wählen Sie die Übersetzungssprache Niederländisch
Geben Sie den Namen unserer Website in das Feld unter www.BONTE.eu ein
Wählen Sie die Sprache aus, in die die Website übersetzt werden soll
Klicken Sie auf das quadratische Symbol mit dem Pfeil, um zur Website zu gelangen
Wenn Sie auf die Website geschickt werden, werden Sie das sehen;
Bei 1. wird Ihre gewünschte Sprache angezeigt oder Sie können sie anderweitig ändern.
Unter 2. Sie sehen das Menü unserer Website in Ihrer eigenen Sprache.
Möchten Sie lieber etwas in der Originalsprache sehen? Dann können Sie sich noch bei 3 dafür entscheiden ..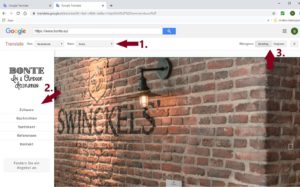 Español
Es posible leer nuestro sitio web en su propio idioma usando GoogleTranslate.
Vaya a https://translate.google.com/
Elija el idioma traductor holandés
Ingrese el nombre de nuestro sitio web en el cuadro a continuación www.BONTE.eu
Elija el idioma en el que desea traducir el sitio web
Haga clic en el icono cuadrado con la flecha para ir al sitio web.
Si lo envían al sitio web, lo verá;
En 1. Se indica el idioma deseado o, de lo contrario, puede cambiarlo.
A las 2. Verá el menú de nuestro sitio en su propio idioma.
¿Prefieres ver algo en el idioma original? Entonces todavía puedes optar por esto a las 3 ..